Selection of tax zone / country of delivery
Over hedge and ditch we bring our wide range of products to your door (or atleast nearly)
Fairs, conventions, events we have already attended, respectively we will attend in future.
Don't forget that on our exhibition stands you can always get samples and goodies and benefit from our convention offers!
We also bring your goods to fairs! Leave us at the end of the ordering process a short comment with "pickup fair" and the respective city.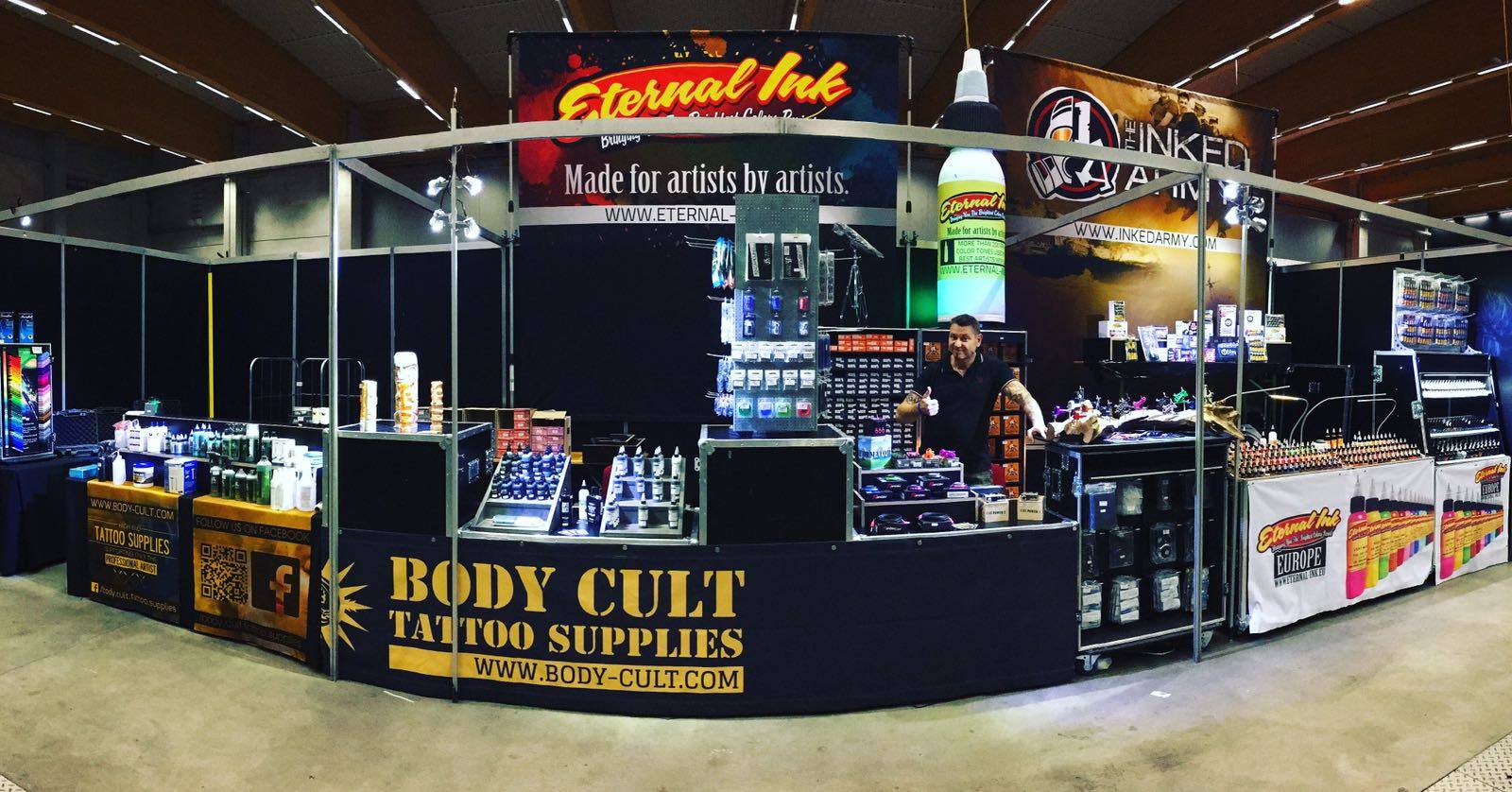 High Quality Tattoo Equipment
Follow us on Instagram
Follow us on Instagram, comment and share your experiences with other users. Be first when it is about deals, promotions or any news.
Welcome at Body Cult Tattoo Supplies!
Everything a tattoo artist needs you will find here! You will not only find a wide spectrum of products in our range but also we promise you an easy and convenient order process. Furthermore quick and short shipping times and improved access via your mobile devices is what we always strive for.
Get to know us
You are a tattoo artist from southern Germany and close areas, or just passing by while traveling? You are always welcome to visit us in our Body Cult Street Shop!

Our location:
89312 Günzburg, Wilhelm-Maybach-Str. 1
right next to the A8 highway (next to LEGO-Land) between Stuttgart and Munich.
We are growing our product range constantly to offer you tattoo equipment by various manufacturers and producers. So we can guarantee you to serve you with the newest and most popular items the tattoo supply market can offer.
By request we are also able to send you samples of some of our newly introduced products.
Personal advice in the street shop or via phone
Not only are we offering a wide range of tattoo products but also you can benefit from consultations to learn more about what tattoo equipment you can buy from us. Our tattoo experts are happy to let you know several topics like tattoo machine parts, tattoo butter which will server you the best or tips for cleaning certain tattoo items.
Benefit by becoming a dealer
With our WHOLESALE prgramm we offer a lot of our products to other tattoo suppliers. No matter if you are interested into our exclsuively imported top brands our own innovative items we offer a variety of options for expanding the portfolio of any tattoo equipment dealer. For more information just follow the link: