HYGIENE
---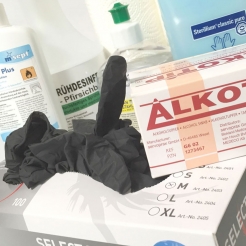 Hygiene is a substantial part of a tattoo artist's daily routine, therefore we offer you everything you need for your every-day hygiene and cleaning. 

From cloves, wound care, and other medical supplies to ultrasonic and sterilisation devices as well as disinfection and cleaning detergents - we got you covered!

To protect your and your customer's health we only stock high quality items from popular and trusted brands like:

The Inked Army, Elma, Octenisept, Papaya Jack, Hustle Butter and many more!

If you have any questions, do not hesitate to contact us.