Street Shop
Experience our tattoo equipment on the spot
You want to get your own impression about our product range, want to see how your favorite tattoo machine brands feel directly in your hand, or just want to talk to some nice people about the peculiarities of certain tattoo accessories?
Then our street store is the place for you! Just stop by to make a direct purchase, pick up your order, or learn about our new products. On our showroom floor we present the latest and most popular tattoo products, including of course primarily tattoo machines and power supplies. However, we also have other items on site, which we present in our showcases.

Cheyenne Test Station
One of the centerpieces of our exhibition is the Cheyenne test station. Here we present all the devices of the popular German brand for high-quality tattoo machines. You can test the lines, the weight and the drive of the different Cheyenne tattoo machines on practice skins. You can get an impression of which model is most suitable for you. The possibility to offer you this experience is kindly provided by Cheyenne directly. If you were then convinced by one of the machine, we have of course always plenty in stock, so you can buy your new piece of jewelry directly and take it with you.
Visit our seminars
We also regularly host seminars, trainings and meet ups with tattoo artists, product manufacturers and experts in our own seminar rooms. Our seminar room creates a great ambience with the high ceiling and plenty of space and makes your next seminar a special experience. Here you can learn new things, share your knowledge with other tattoo artists and make new contacts.
Keep your eyes open, places for our seminars are always limited and will be advertised via our website and social media.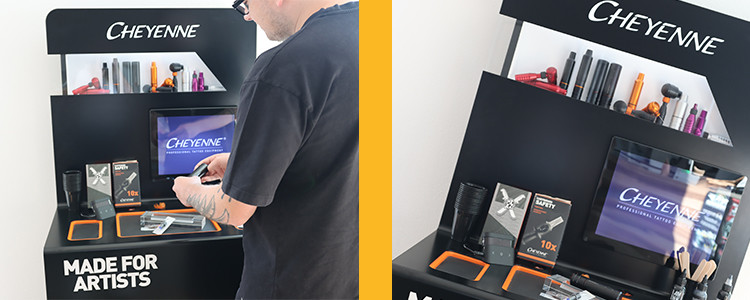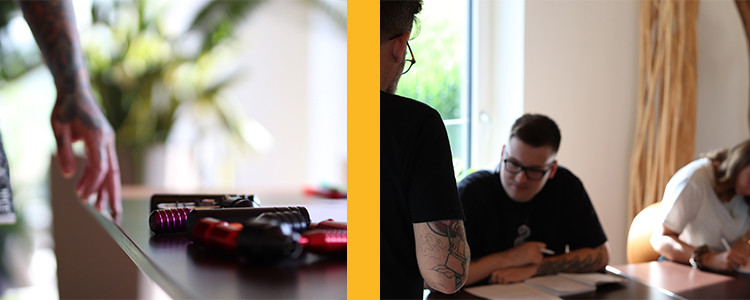 Even more tattoo products to discover
We also have a large collection of tattoo art books at the start. These invite you to browse and you can get an overview before buying whether the content is also suitable for your everyday work. Only in our Street Shop in Günzburg, we also have a sale showcase on site, where you can pick up very special deals that we offer nowhere else. And of course we always have different samples and test products at the start, of which you can either get an overview. Or we give you these directly with your order.
We are already looking forward to your visit
So you see, a visit to us on site is always worthwhile. The best thing is, we are very centrally located in the south of Germany, only 2 minutes from the freeway exit Günzburg on the A8. This exit is close to the freeway junction A8/A7, which means that you can reach us directly and very easily from the north, south, east and west.