Disinfection & Sterilization
Top offers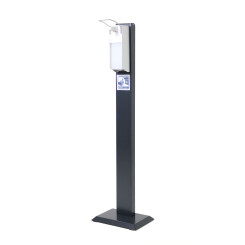 CONPROTA - Hygiene Station Spender Manual 1000 ml
The right disinfection plays a very important role to keep your tattoo or piercing studio clean and hygienic.
For this reason we offer you a variety of high quality products.

Whether skin and hand disinfection, surface disinfection or medical instruments, here everything is taken care of to keep your tattoo studio on the highest hygienic level.
We also offer surface disinfection with flower or lemon scent, so your tattoo studio smells pleasantly fresh and a pleasant atmosphere of well-being is created.
As a preparation to prick your piercing at the customer, our alcohol swabs are especially suitable for disinfecting the affected skin area.
We also offer you ultrasound devices and accessories, which guarantee a quick and thorough cleaning of your instruments within a few minutes.
A topseller in this area is definitely our long arm disinfectant dispenser, which no professional tattoo or piercing studio should be without, to place your disinfectant on the wall in a quickly accessible way.
Simply choose the right one for you from our extensive assortment.