PIERCING & JEWELRY
Our bestsellers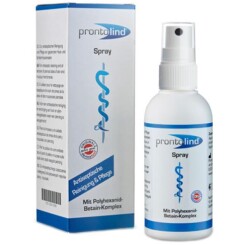 PRONTO LIND - After Care Spray - 75 ml
only
3,81 €

*
(3,20 € excl. Tax)
In the section Piercing and Accessories you get everything you need for your perfectly furnished piercing studio and as a professional piercer.
We want to meet the high demands of your customers and have included in our piercing range only the quality highest products.
The basis for piercings that optimally heals and is best placed is to use piercing accessories with the highest quality of hygiene.
With us you get the right piercing tweezers, clamps, piercing pliers, piercing needles and everything else you need for your piercing studio at a fair and pleasant price.
In the various subcategories in the fieald of piercing you will also find all sorts of piercing jewelry, both in different shapes, as well as in different colors and materials, sterile and not sterile packed. So you can let your customers decide freely and they will be amazed by the giant selection. 
We also offer ideal and pleasant piercing jewelry for sensitive skin, so are Bioplast piercings and piercings made of titanium are particularly allergy-friendly and easily tolerated.